A New Smile in One Day?
Yes! Anything is possible with All-on-4 implants in Belfast!
Living with failing oral health, missing teeth or loose dentures can make you feel like you may never smile again.
Every day, our team talks to people who tell us that being unable to smile makes them feel low on confidence and depressed at the thought of living on a restricted diet.
But here's good news. Dental Implants from the Creative Smiles team restore even the most compromised smiles, giving you a fully functional set of teeth and renewed confidence.
Even better—with revolutionary All-on-4 implants, we can achieve this in a single day and offer a dramatically reduced recovery time compared to conventional implants.
In fact, Choose All-on-4, and you could be smiling and enjoying all of your favourite foods again within a day or two of treatment.
The Science of All-on-4
Dental implants are, without a doubt, the gold standard for smile replacement.
The treatment usually involves six implants per upper or lower arch inserted to support a row of natural-looking, fully functioning teeth. The procedure usually requires a few months of recovery and several weeks of a soft diet while the implants bed in.
All-on-4 implants work in exactly the same way. However, the implants are placed at a slight angle to give superb strength from the outset.
The technique means we can achieve the same long-lasting base for replacement teeth using fewer implants—with no soft diet required during recovery.
All-on-4 are often referred to as Same-Day Teeth or immediate load implants because the effect is just like receiving a brand-new smile in a day.
Here's Why You'll Love All-on-4 dental Implants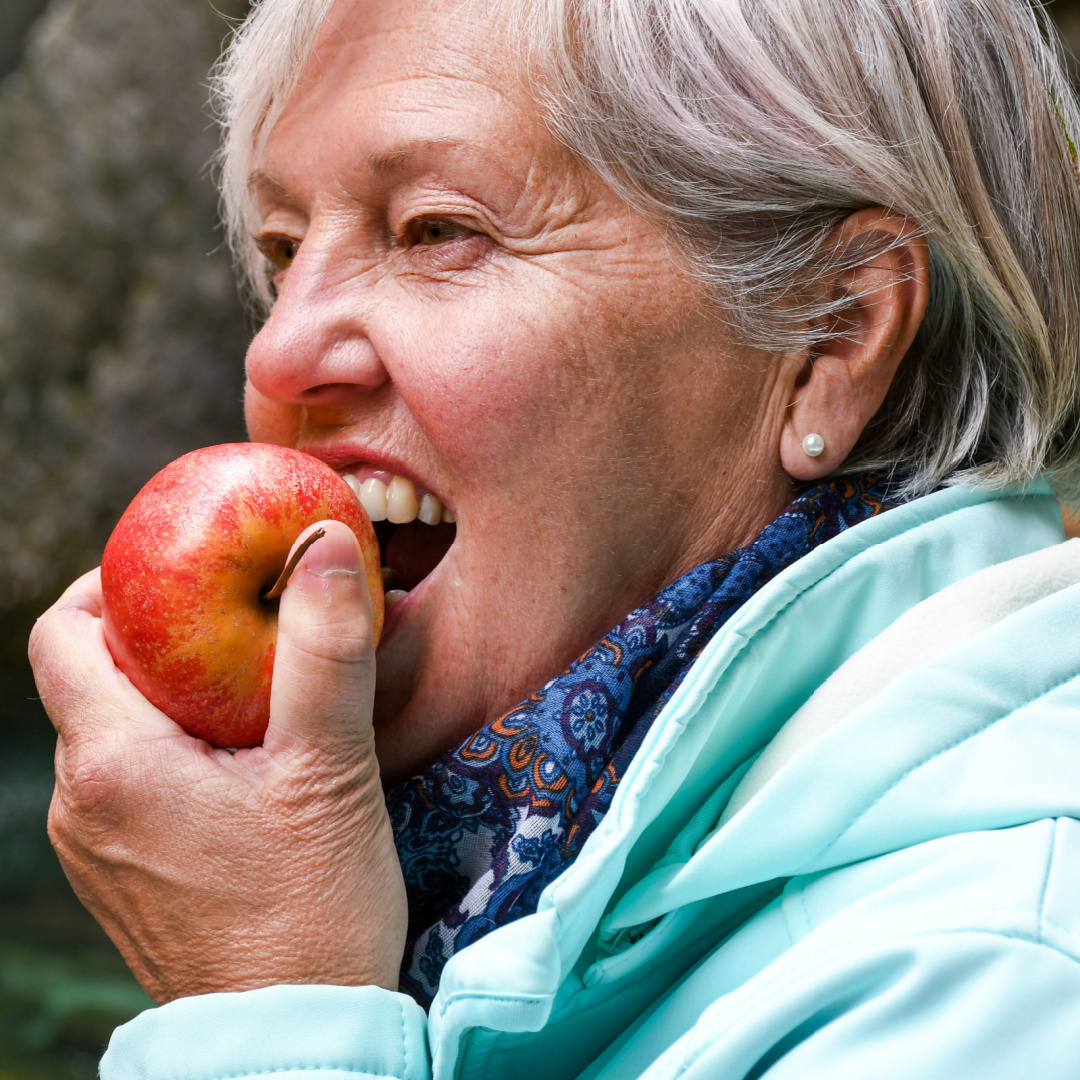 Confidence Restored
Patients often tell us that life without fully functioning teeth leaves them low on self-esteem, anxious about smiling, and eager to hide away at social gatherings or in group photos. All-on-4 implants give you back your zest for life—and a smile you'll want to show off on every occasion.
No More Soup! 
Life without functioning teeth is tough on food lovers, who often find themselves on restricted diets and unable to enjoy life's simple pleasures like steak and other favourites. All-on-4 implants put everything back on the menu without worrying about whether your teeth or dentures can cope.
The Real Feel of Smiles
Unlike dentures, All-on-4 implants are permanently fixed in place. Within a day or two of treatment, it'll look and feel like having your old smile again. And thanks to our team's skill in creating superbly lifelike restorations, friends and family will never guess they aren't the real thing. 
Roll Back the Years
All-on-4 implants won't just make you feel years younger but will also reverse the premature ageing that often accompanies tooth loss. The implants prevent jawbone deterioration, returning vital support to the cheeks and jaw and lending new definition to sallow, sunken facial features.
Just One Day
Best of all, All-on-4 implants achieve all of this in a single-day appointment. Creative Smiles patients visiting the clinic in the morning often send us selfies from their favourite restaurant on the same evening!
Ready to experience the life-changing effect of All-on-4 implants from Creative Smiles, Belfast?

Don't waste another day hiding your smile and eating the same soft foods!
Now Take Your Next Step
Happy Patient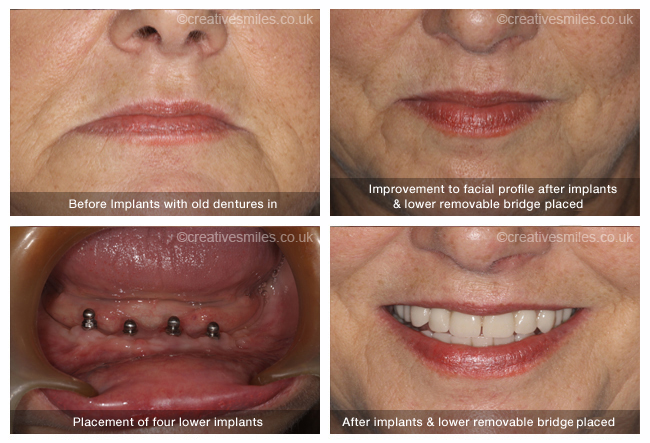 "A huge difference to my whole face"
"My lower denture was constantly moving around in my mouth. Trying to eat with the denture was almost impossible and I always had the worry that they would fall out when I was in company which would be a really embarrassing situation for me. I came to see Mark who was highly recommended to me by a friend and he placed 4 lower implants which lock into a removable bridge giving me a secure set of lower teeth. I now have no worries about my teeth falling out of my mouth when in company as they do not move anymore when I eat. It has given me a lot more confidence and I feel it has made a huge difference to my whole face in general as I felt my cheeks and lips had sunk in over time''
Read more Testimonials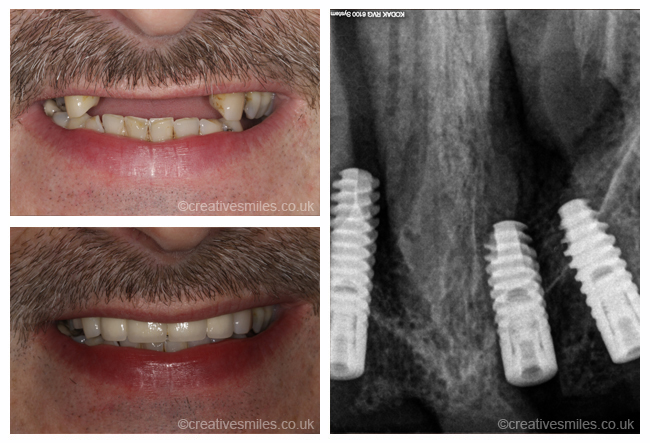 "I no longer have to worry about removing a denture!"
"I was unhappy wearing an upper removable denture and was really worried about the effect it was having on the rest of my existing upper teeth. After having 3 implants placed at Creative Smiles I was able to gain four new front teeth using a permanently fixed implant bridge. I no longer have to worry about removing a denture! Having this procedure carried out has made me more confident and less embarrassed to show my teeth. The service here was excellent!''

"Since treatment my confidence is now back "
"My denture was no longer working for me. I previously had a fixed bridge and I didn't like that the denture was removable. I chose Creative Smiles on my daughter's recommendation as she had some treatment carried out there. Since treatment my confidence is now back and I do not have to worry about my denture coming out." The above case was completed with an Implant retained bridge.
Frequently Asked Questions
What are All-on-4 dental implants?
+
All-on-4 implants are a revolutionary dental implant system which can restore several teeth at once. Using four or six dental implants placed at the perfect angle, we can replace an entire arch of teeth.
What are All-on-4 implants made from?
+
Like standard dental implants, All-on-4s are made from durable and lightweight titanium. This metal is used as it's accepted by the body and will fuse with bone.
How many teeth can I replace with All-on-4 dental implants?
+
If you have lost all the teeth on an arch, All-on-4 dental implants in Belfast can replace all of them. The entire process is quick and straightforward, and you can enjoy your new smile in no time.
How long does the All-on-4 implant procedure take?
+
While it usually takes several months to complete the standard dental implant procedure, the All-on-4 implants process is much quicker. Typically, we can place the implants in a single day. At this point, we'll give you temporary replacements for your teeth until the lab has made your permanent custom restorations.
Can I replace my dentures with All-on-4 dental implants?
+
In many cases, you can replace dentures with All-on-4 implants. To determine whether you're a suitable candidate for All-on-4s, we'll need to assess the density of your jaw bone and ask questions about your general health.
Can I have All-on-4s if my jaw bone has deteriorated?
+
When you lose teeth, jaw bone resorption occurs. This means that the minerals that make up your jaw are removed in the bloodstream leaving the bone depleted. When this happens, your jaw will lack the strength and density needed to support dental implants. In some cases, a bone graft procedure can regenerate lost density, making the procedure possible.
Does the All-on-4 procedure hurt?
+
Before your procedure, we'll give you an anaesthetic. This will make your treatment pain and discomfort-free.
What are the alternative options to All-on-4 implants?
+
If All-on-4 implants are not right for you, dentures are often the most practical alternative.
How long will All-on-4 dental implants last?
+
With proper care, the dental implants themselves will last for life. Your new smile won't be as strong as your natural teeth were— as such, they will wear down over time. You can expect your replacement teeth to last for around 10-15 years. We can replace these easily at a later date.
How do I look after my All-on-4 implants?
+
There are a few things you should do to maintain your All-on-4s and your oral health. Regular brushing and flossing will remove plaque and food debris and ward off gum disease, and routine checkups and hygiene appointments give us a chance to keep an eye on your smile.
How safe are All-on-4 dental implants in Belfast?
+
All-on-4 implants are regarded as a safe and effective way of replacing several teeth. The procedure has a very high success rate. Our experienced dentists continue to learn new techniques as innovations in dentistry emerge. We use the latest technology and methods to maximise the effectiveness and comfort of every procedure we perform.
Get In Touch