Developed and pioneered in the USA
The system was developed and pioneered in the USA, but an increasing number of dentists in the UK have gone on to provide this service. We at Creative Smiles are proud to offer it to the residents of Belfast.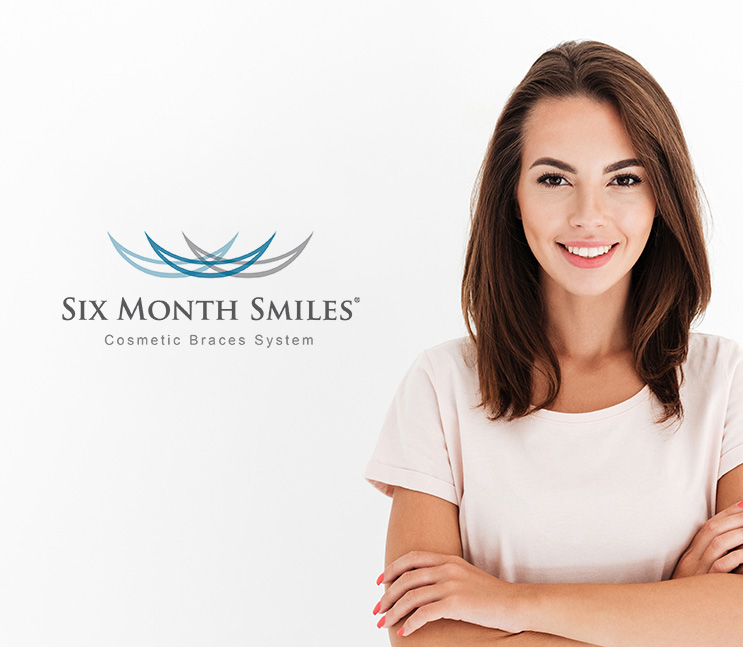 Am I suitable for six month smiles treatment?
The six month smile braces can be used to treat a variety of different orthodontic problems, including gaps between the teeth, overcrowding, protruding teeth and problems with the bite (this is the way the upper and lower teeth and the jaw align when the jaw is relaxed). Most patients can benefit from this treatment, and you will be able to discuss your suitability for treatment with one of our certified cosmetic dentists here at Creative Smiles.
How do the braces produce results so quickly?
The six month smile braces use the most innovative and modern technology and focus on the front teeth because they are visible when the patient smiles. The braces cause the teeth to move in the correct direction by using specially designed nickel titanium braces.
GET IN TOUCH
Are the 6 month smiles braces more expensive?
Most people would assume that this innovative treatment would come with a hefty price tag, but the treatment is actually considerably cheaper than most other cosmetic orthodontic treatments. Our friendly team here at Creative Smiles will be more than happy to discuss any queries you may have about the treatment and cost.
Will other people be able to see the braces?
The 6 month smile braces have been specially designed to look as subtle as possible. The wires are extremely fine and the brackets are tooth coloured so the braces are very discreet.
GET IN TOUCH
Happy Patients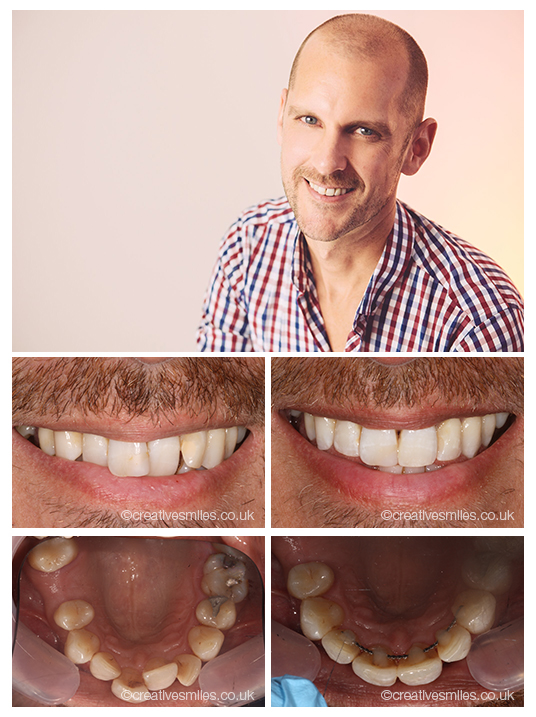 "I feel much more confident"
"I was becoming more self-conscious about my crooked front teeth. I checked out several sites, read through Creative Smiles review's and saw they had quite a few awards. On recommendation I contacted Creative Smiles and I found the service was amazing. I feel much more confident, I no longer have a tight lipped smile and people have mentioned that I am much happier!"
Read more Testimonials

"The service was excellent, everything from start to finish was perfect"
"I didn't like my smile and after looking at different places the Creative Smiles reviews seemed the best. The service was excellent, everything from start to finish was perfect. It has made a big difference to my life, I am looking my best and feeling my best, I can smile again! 😊" This case was completed using a range of tooth straightening, veneer replacement and tooth whitening.
Read more Testimonials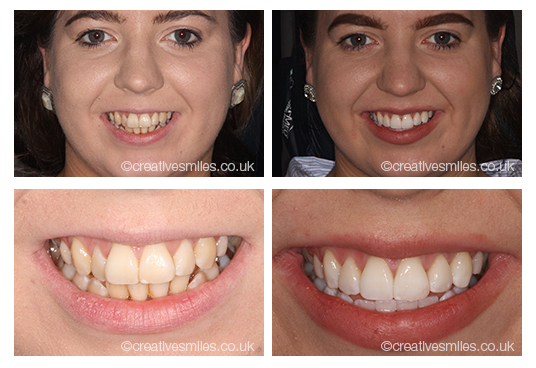 "The treatment has made an absolutely huge difference to my life."
Upper and Lower Braces, Treatment time - 5 months "I was constantly paranoid and had no confidence with my smile. After a long time researching I chose Creative Smiles because of their awards. The service was fantastic and the results were amazing. I couldn't have asked for a better dental clinic! The treatment has made an absolutely huge difference to my life. I now wear my smile with pride and confidence"
Read more Testimonials
Frequently Asked Questions
What makes Six Months Smiles so fast?
+
Unlike traditional braces, Six Month Smiles focuses on moving the most visible front teeth only. These teeth are often easier to move than the larger molars at the back of your mouth.
Does Six Month Smiles hurt?
+
Six Month Smiles uses constant force to move your teeth. You may experience mild discomfort as you first adjust to wearing your braces. This quickly subsides, and you'll often forget they are there.
Is Six Month Smiles more comfortable than normal braces?
+
Six Month Smiles reduces orthodontic treatment length. You may assume this is because it uses greater forces than traditional braces; however, this is untrue. Because Six Month Smiles only treats cosmetic alignment problems and not bite issues, less force is applied across the whole arch.
Will people notice my braces?
+
The subtle Six Month Smiles system uses clear brackets. This makes it harder for others to see your braces.
Will I need teeth extracted before treatment?
+
Although some patients receiving fixed brace treatment need teeth extraction, this isn't often the case with Six Month Smiles. A small percentage of patients may need to have their lower incisors removed.
Will I need a retainer after treatment?
+
Like any other teeth straightening treatment, you must wear a retainer after your Six Month Smiles braces are removed. This preserves your results and stops your teeth from returning to their old position.
Am I a suitable candidate for Six Month Smiles?
+
Six Month Smiles is designed to treat mild, cosmetic issues like crowding and gaps in your front teeth. During an initial consultation, we'll assess your teeth to ensure Six Month Smiles is right for you.
Get In Touch