High Quality Teeth Whitening in Belfast
Custom made trays are made based on accurate impressions These are then processed at our in-house teeth whitening laboratory in Belfast.
At your second appointment we fit your individual trays for you and give you instructions on how to use your whitening kit which we ask you to administer at home for either one hour or overnight intervals over a 20 day or night period.
We carefully monitor your progress throughout the procedure. This involves taking before and after photographs to see how many shades whiter your teeth have enhanced.
Smiling down the aisle
With a white wedding on the horizon, this bride-to-be wanted a smile that wouldn't let her down.
We used a gentle teeth whitening treatment as the finishing touch to a straightening and bonding treatment that left her looking radiant on the big day and beyond.
Combination Teeth Whitening System in Belfast
If you would prefer a more instant result, we provide an in-house option of the Zoom Instant Power Whitening System. This package also includes custom-made trays with whitening gel included in order for you to carry out future 'top-up" sessions at home. The total appointment time is around one hour and thirty minutes.
Happy Patients

"The service was excellent, everything from start to finish was perfect"
"I didn't like my smile and after looking at different places the Creative Smiles Belfast reviews seemed the best. The service was excellent, everything from start to finish was perfect. It has made a big difference to my life, I am looking my best and feeling my best, I can smile again! 😊" This case was completed using a range of tooth straightening, veneer replacement and tooth whitening.
Glenn, Belfast
Read more Testimonials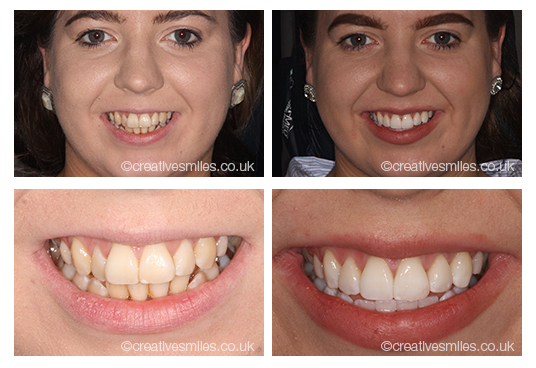 "The treatment has made an absolutely huge difference to my life."
Upper and Lower Braces, Treatment time - 5 months "I was constantly paranoid and had no confidence with my smile. After a long time researching I chose Creative Smiles because of their awards. The service was fantastic and the results were amazing. I couldn't have asked for a better dental clinic! The treatment has made an absolutely huge difference to my life. I now wear my smile with pride and confidence"
MM

"I have now got exactly what I have wanted for a long time"
''Because of tooth whitening I have now got exactly what I have wanted for a long time, a cleaner & brighter smile!''
Glenn, Belfast
Frequently Asked Questions
How does teeth whitening at Creative Smiles Belfast work?
+
We offer two types of teeth whitening, an at-home and an in-clinic treatment. The at-home option involves wearing custom-made trays containing whitening gel daily for up to three weeks. In-clinic whitening uses gels activated by powerful lights to deliver quick results.
Is teeth whitening safe?
+
Professional teeth whitening treatments from a dentist are safe. We'll give you a dental checkup before starting whitening to ensure your teeth are healthy enough for the treatment. Shop-bought whitening treatments don't have the professional supervision or the same level of quality as those offered by Creative Smiles.
Can anyone get their teeth whitened?
+
You can enjoy the benefits of dental whitening if you're over the age of 18 and have healthy teeth and gums.
What causes teeth to become discoloured?
+
Stains and discolouration can occur if you're a smoker, drink lots of tea, coffee, or red wine, or regularly eat spicy foods or dark berries. Illness and certain medications can also affect the appearance of your teeth.
What are the different methods of teeth whitening?
+
We offer two types of whitening, an at-home option that gradually brightens your smile over 20 days, or Phillips Zoom! an in-house treatment with at-home follow ups.
How long does a typical teeth whitening procedure take?
+
At-home treatments take around 20 days, while a Philips Zoom! appointment takes around 90 minutes.
How long does teeth whitening last?
+
Teeth whitening isn't permanent, and the results may remain visible longer for some people than others. Avoiding anything that could stain your teeth will help preserve the brightness for longer. If you notice discolouration returning, we can provide top-up treatments.
Will teeth whitening make my teeth sensitive?
+
While whitening your teeth, they will be exposed to a powerful gel containing hydrogen peroxide. Before your treatment, we'll ensure your teeth are healthy enough for whitening. You may experience mild sensitivity as a result of treatment; however, this is temporary.
Are there any age restrictions for teeth whitening?
+
Yes. Treatment is only available to patients over the age of 18.
Can I whiten my teeth at home?
+
We offer a whitening treatment that you can use at home. Using custom whitening trays makes this treatment safe, comfortable, and straightforward.
What is the difference between professional teeth whitening and over-the-counter products?
+
Many shops sell whitening products; however, these are much weaker than professional treatments and don't offer the same level of safety. Our at-home treatments use bespoke whitening trays made to fit your teeth perfectly. This ensures safer delivery of the whitening agents. Additionally, having professional support throughout improves the safety and outcome.
Can teeth with restorations (fillings, crowns, veneers) be whitened?
+
No. Whitening will only brighten your natural teeth.
How often can I whiten my teeth?
+
Your new smile should stay bright for a long time with the right care. Overusing whitening treatments can cause sensitivity. If your bright smile has faded, schedule an appointment and we can discuss top-up treatments.
How can I maintain the results of my teeth whitening treatment?
+
Proper oral hygiene will preserve the brightness of your smile. You should also limit your coffee, tea, and red wine consumption, and avoid eating too many foods that cause stains. Visiting us for a hygiene appointment can also help keep your smile looking fresh.
Get In Touch