Eat freely
Rather than suffer the inconvenience of dentures, dental implants offer a more convenient and effective solution to replace missing teeth.
This life changing treatment gives patients their confidence and independence back often after many years of not being able to eat the foods they once loved and forgetting how to smile.
GET IN TOUCH
Life-changing!
When this lady's bridge failed, her own dentist recommended Mark at Creative Smiles for fixing the problem.
She admits to being nervous about the implant procedure but says our team helped her feel comfortable and in control throughout.
This patient is just one of many to describe receiving implants as 'life-changing.'
Watch this patient's journey
Method
1
Preliminary x-rays & screenings determine your suitability for dental implants.
2
Implants are secured to your jawbone with titanium screws.
3
A new crown is placed on top of the implant to match your existing teeth
4
Implants normally take 5/6 months to complete.
GET STARTED
Benefits - Dental Implants in Belfast

Removes the need for dentures and a plastic covering the roof of your mouth.

They feel and look like natural teeth.

They are strong and long lasting.

Allows you to chew with confidence and enjoy all types food.
GET IN TOUCH
Our implant care
We have invested in our own on-site state of the art CT scanner to ensure the best possible implant treatment for you. This allows us to plan and decide the treatment best suited to your needs and budget.
Mark, who has trained with the world leading ankylos system, will carry out the procedure. Our expertise in assessing your suitability for implants, carrying out the procedure and providing aftercare means we offer a fully comprehensive dental implant service.
In this video, we hear from a Creative Smiles patient who was living with a host of painful and debilitating oral health issues including terrible abscesses.
We helped him overcome his fear of dentistry to have life-changing dental implants in which we replaced a mouthful of failing with permanent lifelike implants.
The transformation is stunning – and it proves that a little empathy goes a long way. We work hard to build trust and rapport, and we are proud of the strong relationships we build with our patients. We find this is essential in helping our more nervous visitors to overcome their anxieties and finally get the treatment they need.
Happy Patient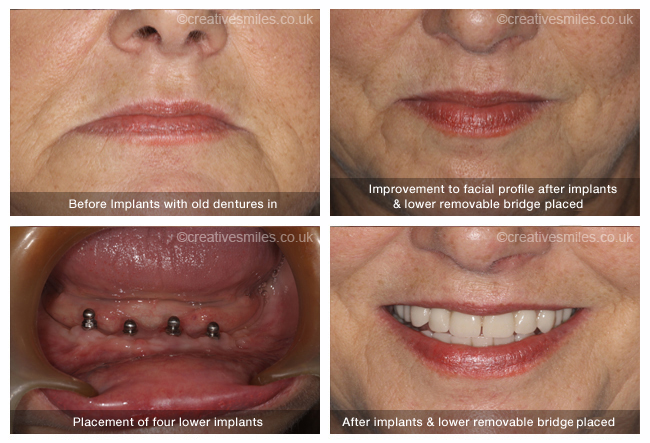 "A huge difference to my whole face"
"My lower denture was constantly moving around in my mouth. Trying to eat with the denture was almost impossible and I always had the worry that they would fall out when I was in company which would be a really embarrassing situation for me. I came to see Mark who was highly recommended to me by a friend and he placed 4 lower implants which lock into a removable bridge giving me a secure set of lower teeth. I now have no worries about my teeth falling out of my mouth when in company as they do not move anymore when I eat. It has given me a lot more confidence and I feel it has made a huge difference to my whole face in general as I felt my cheeks and lips had sunk in over time''
Read more Testimonials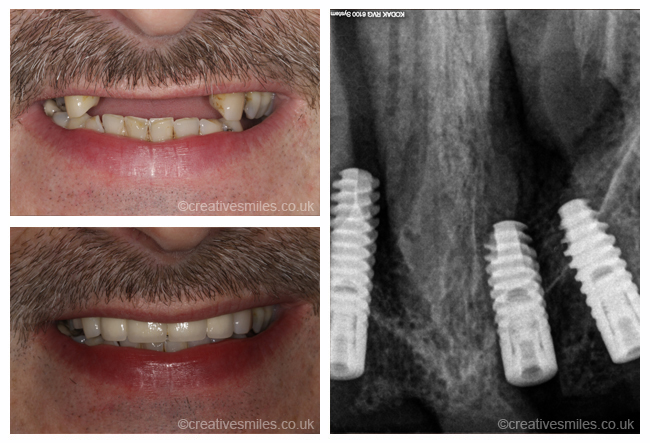 "I no longer have to worry about removing a denture!"
"I was unhappy wearing an upper removable denture and was really worried about the effect it was having on the rest of my existing upper teeth. After having 3 implants placed at Creative Smiles I was able to gain four new front teeth using a permanently fixed implant bridge. I no longer have to worry about removing a denture! Having this procedure carried out has made me more confident and less embarrassed to show my teeth. The service here was excellent!''

"Since treatment my confidence is now back "
"My denture was no longer working for me. I previously had a fixed bridge and I didn't like that the denture was removable. I chose Creative Smiles on my daughter's recommendation as she had some treatment carried out there. Since treatment my confidence is now back and I do not have to worry about my denture coming out." The above case was completed with an Implant retained bridge.
Frequently Asked Questions
What are dental implants?
+
Dental implants are titanium posts used to replace the roots of missing teeth. We implant the post into your jaw and use it to hold a lifelike dental crown in position. Implants are made from titanium because this lightweight metal is biocompatible and durable. Once in position, your jaw and the titanium will fuse together to give your new tooth a solid foundation.
What are the benefits of dental implants?
+
Along with the aesthetic benefits of dental implants, completing your smile can improve self-confidence and restore your ability to chew food. There are also several health benefits. Dental implants stop neighbouring teeth from moving out of position and prevent jaw bone deterioration, which can leave you looking prematurely aged. Dental implants also make it easier to maintain good standards of oral hygiene meaning the risk of decay or infection is decreased.
Am I the right age for dental implants?
+
There is no right or wrong age for dental implant success, although younger patients should wait until they reach the age of 18 before receiving this treatment as the jaw is still developing. The bone's ability to heal is not affected by age, so it's never too late to get dental implants.
Does dental implant placement hurt?
+
Although dental implant surgery is complicated, we'll provide an anaesthetic so each step of the procedure is painless.
How long does dental implant placement take?
+
Because dental implants need to fuse with the jaw bone through a process called osseointegration, it will take several months to restore missing teeth fully. After placing your implant, we can provide a temporary crown which you can wear until the bone and implant are ready for the final restoration.
Am I a suitable candidate for dental implants?
+
If you have missing or severely damaged teeth requiring extraction, dental implants can restore their appearance and function. There are a few factors that could mean you are not a suitable candidate for dental implants. We'll need to find out about your general health and lifestyle and perform a thorough assessment of your jaws before we can proceed with the procedure. The healing process can take time, and you need to be in good health. Certain medical conditions can affect how your body heals after surgery. You must have sufficient bone mass in your jaw to support the implant. If it's been a while since you lost your teeth or you've experienced advanced gum disease, your jaw may have deteriorated. In these cases, you may need a bone graft before you can have dental implants.
Will I need a bone graft before getting dental implants?
+
Not everybody needs a bone graft before they receive dental implants. Bone grafts restore your jaw following resorption. A piece of bone tissue is applied to the compromised area of the jaw. Left to heal, this will gradually bind with and strengthen the jaw. We'll assess the health of your jaw during your initial assessment and advise whether you might need a bone graft first.
Can I replace multiple teeth with dental implants?
+
Often when discussing dental implants, we are referring to replacements for single teeth. These are one titanium post capped with a dental crown. Although it's not practical to replace multiple teeth in this way, we can use an alternative implant procedure to restore up to an entire arch of teeth. All-on-4 implants use four or six implants spread across the entire jaw to support a row of lifelike teeth.
Are dental implants safe?
+
Dental implants are perfectly safe. They have been used by dentists all over the world since the 1960s and enjoy a very high success rate. We only use high-quality implants from manufacturers with a proven track record for excellence. Our dentists are highly trained and have performed numerous implant procedures. Not only this but our team is involved in continuous professional development to ensure they maintain the highest professional standards and remain at the forefront of the latest dental innovations.
What are the alternatives to dental implants?
+
If dental implants are not for you, we can replace one or more teeth using dental bridges. These natural-looking replacements use your adjacent teeth for support. Alternatively, you could have full or partial dentures.
How long do dental implants last?
+
With the proper dental care, a titanium implant should last a lifetime. The lifelike prosthetic teeth we attach to dental implants will need to be replaced as they can wear down. These typically last for around 10-15 years.
How do I take care of dental implants?
+
The best way to care for your dental implants is to brush your teeth twice a day using a soft toothbrush and fluoride toothpaste. Regular checkups and appointments with our hygienist will also help you maintain a healthy smile and give us a chance to spot problems early.
Can dental implants fail?
+
If your bone rejects the implant, it can fail. This is very rare, and the majority of procedures succeed. Lifestyle factors like smoking and the general health of your teeth, gums, and jaws can all play a part in the long term success of your implant. Regular checkups after having dental implants will help ensure you keep problems like infection and gum disease at bay.
Get In Touch