Eat freely
Rather than suffer the inconvenience of dentures, dental implants offer a more convenient and effective solution to replace missing teeth.
This life changing treatment gives patients their confidence and independence back often after many years of not being able to eat the foods they once loved and forgetting how to smile.
GET IN TOUCH
Life-changing!
When this lady's bridge failed, her own dentist recommended Mark at Creative Smiles for fixing the problem.
She admits to being nervous about the implant procedure but says our team helped her feel comfortable and in control throughout.
This patient is just one of many to describe receiving implants as 'life-changing.'
Watch this patient's journey
Method
1
Preliminary x-rays & screenings determine your suitability for dental implants.
2
Implants are secured to your jawbone with titanium screws.
3
A new crown is placed on top of the implant to match your existing teeth
4
Implants normally take 5/6 months to complete.
GET STARTED
Benefits

Removes the need for dentures and a plastic covering the roof of your mouth.

They feel and look like natural teeth.

They are strong and long lasting.

Allows you to chew with confidence and enjoy all types food.
GET IN TOUCH
Our implant care
We have invested in our own on-site state of the art CT scanner to ensure the best possible implant treatment for you. This allows us to plan and decide the treatment best suited to your needs and budget.
Mark, who has trained with the world leading ankylos system, will carry out the procedure. Our expertise in assessing your suitability for implants, carrying out the procedure and providing aftercare means we offer a fully comprehensive dental implant service.
In this video, we hear from a Creative Smiles patient who was living with a host of painful and debilitating oral health issues including terrible abscesses.
We helped him overcome his fear of dentistry to have life-changing dental implants in which we replaced a mouthful of failing with permanent lifelike implants.
The transformation is stunning – and it proves that a little empathy goes a long way. We work hard to build trust and rapport, and we are proud of the strong relationships we build with our patients. We find this is essential in helping our more nervous visitors to overcome their anxieties and finally get the treatment they need.
Happy Patient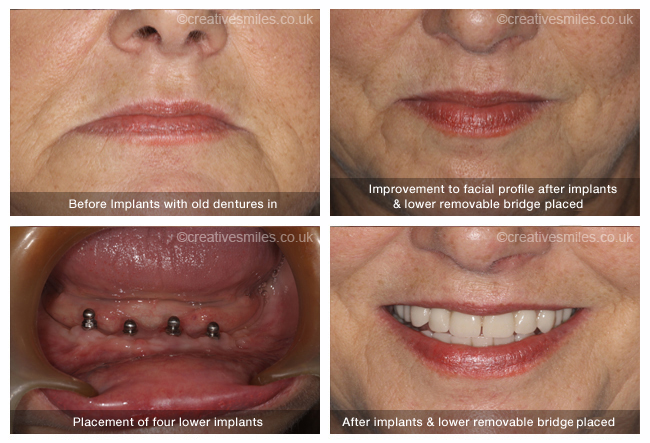 "A huge difference to my whole face"
"My lower denture was constantly moving around in my mouth. Trying to eat with the denture was almost impossible and I always had the worry that they would fall out when I was in company which would be a really embarrassing situation for me. I came to see Mark who was highly recommended to me by a friend and he placed 4 lower implants which lock into a removable bridge giving me a secure set of lower teeth. I now have no worries about my teeth falling out of my mouth when in company as they do not move anymore when I eat. It has given me a lot more confidence and I feel it has made a huge difference to my whole face in general as I felt my cheeks and lips had sunk in over time''
Read more Testimonials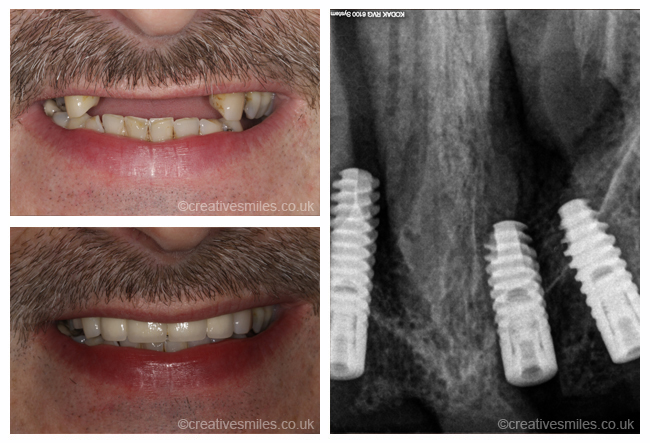 "I no longer have to worry about removing a denture!"
"I was unhappy wearing an upper removable denture and was really worried about the effect it was having on the rest of my existing upper teeth. After having 3 implants placed at Creative Smiles I was able to gain four new front teeth using a permanently fixed implant bridge. I no longer have to worry about removing a denture! Having this procedure carried out has made me more confident and less embarrassed to show my teeth. The service here was excellent!''

"Since treatment my confidence is now back "
"My denture was no longer working for me. I previously had a fixed bridge and I didn't like that the denture was removable. I chose Creative Smiles on my daughter's recommendation as she had some treatment carried out there. Since treatment my confidence is now back and I do not have to worry about my denture coming out." The above case was completed with an Implant retained bridge.