Belfast's Premium Invisalign Provider
Invisalign removes the need for metal wires or brackets, giving patients a discreet treatment for cases when they have misaligned or crooked teeth.
Mark Gilbert, owner and leading dentist here at Creative Smiles, Belfast has been trained to the highest calibre when it comes to Invisalign, in order to make sure patients are given the best possible results. Invisalign is the discreet way to correct crooked teeth by using a sequence of specially made, almost entirely 'invisible' aligners.
GET IN TOUCH
Belfast Bride's happy-ever-after
This bride-to-be popped into Creative Smiles to ask us about creating the perfect smile in time for her wedding.
We used Invisalign discreet removable aligners to straighten and close gaps before the big day, with cosmetic bonding and whitening to complete.
The results speak for themselves – a smile worthy of a white wedding and stunning photographs to cherish forever.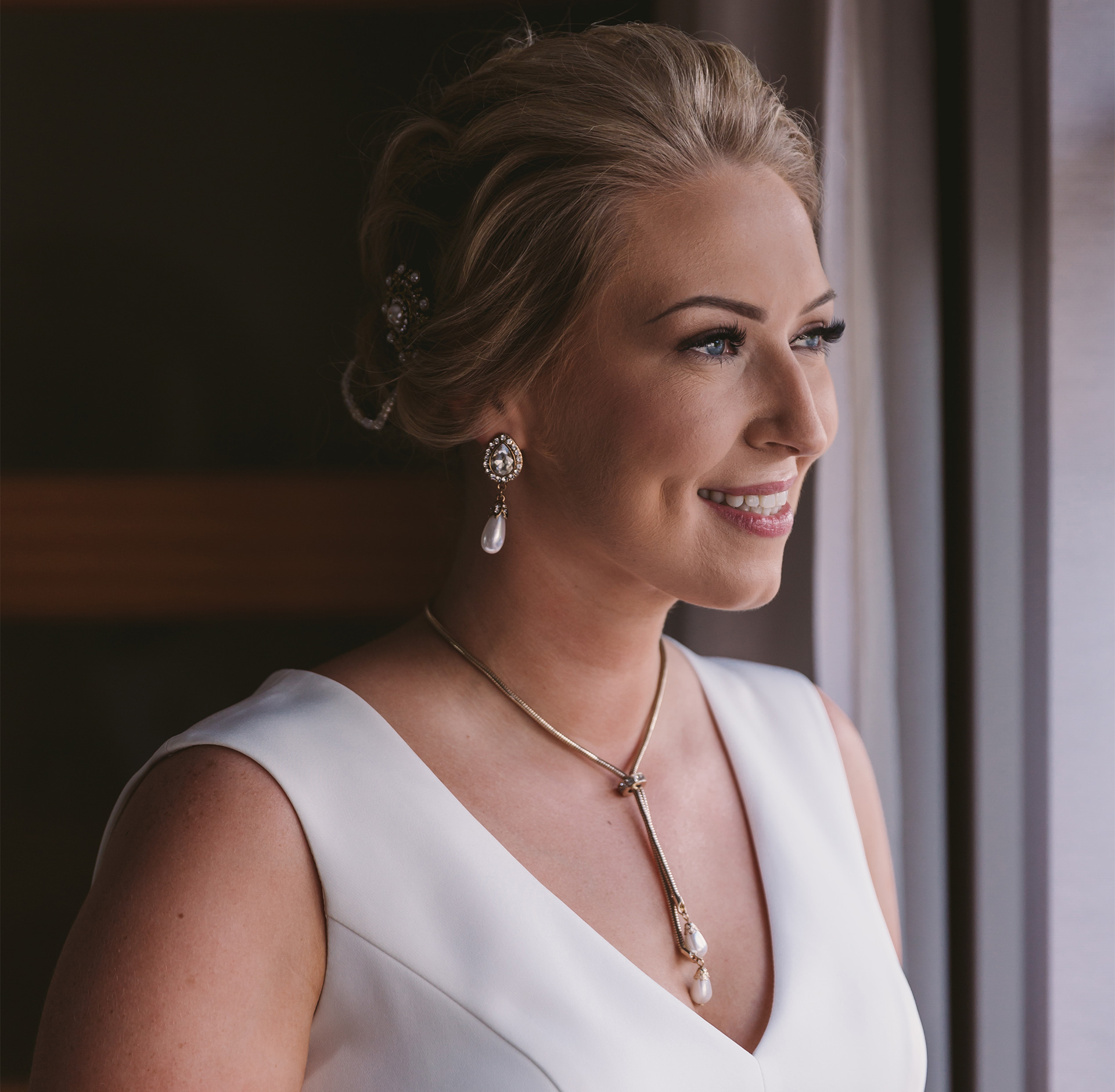 What does treatment involve?
Upon initial examination, Mark will need to ascertain whether Invisalign treatment is suitable for you. This will depend on the severity of each individual case. If Invisalign is deemed inappropriate for your particular case then Mark will be able to discuss other alternative orthodontic treatments available. However, if you are given the thumbs up for treatment then a treatment plan will be created and scans will be taken. Then, Invisalign in the United States will create the aligners before delivering your Invisalign to Belfast for fitting.
Invisalign Tech in Belfast
Using the most recent technological advances in 3D computer technology, the impressions and instructions as sent by Mark will be carefully translated at the Invisalign dental laboratory into a sequence of precisely specially made aligners. Each aligner will need to be worn in the sequence as prescribed by Mark. After two weeks of wearing an aligner it will be time to move onto the next one, in order for your teeth to move accurately and steadily. As time goes by, millimetre by millimetre, you will achieve the intended result and you can bask in the glory of your straighter teeth.
Can the aligners be removed?
You can remove your Invisalign aligners during treatment and can therefore take pleasure in an assortment of your favourite foods. This also makes the task of maintaining oral hygiene much simpler. However, Mark and our other experienced dental staff do recommend that you wear each aligner for 22 hours each day in order to achieve the best results.

"I was nervous about visiting the dentist but now I don't give it a second though."
"Thank you so much for my new smile! As a nervous patient I never thought it would be possible to have my teeth straightened and I am over the moon with the results. I was very self-conscious about my teeth and would have laughed with my hand over my mouth, I now feel confident with my smile and am a lot happier with my appearance. Invisalign was a great choice for me at 28 as I didn't feel comfortable with traditional braces. The process was pain free and the 11 months flew by! Before coming to Creative Smiles I was nervous about visiting the dentist but now I don't give it a second thought. Thank you for making me feel so at ease and making the whole process enjoyable"
Photograph courtesy of Mark Barnes Photography Belfast
Read more Testimonials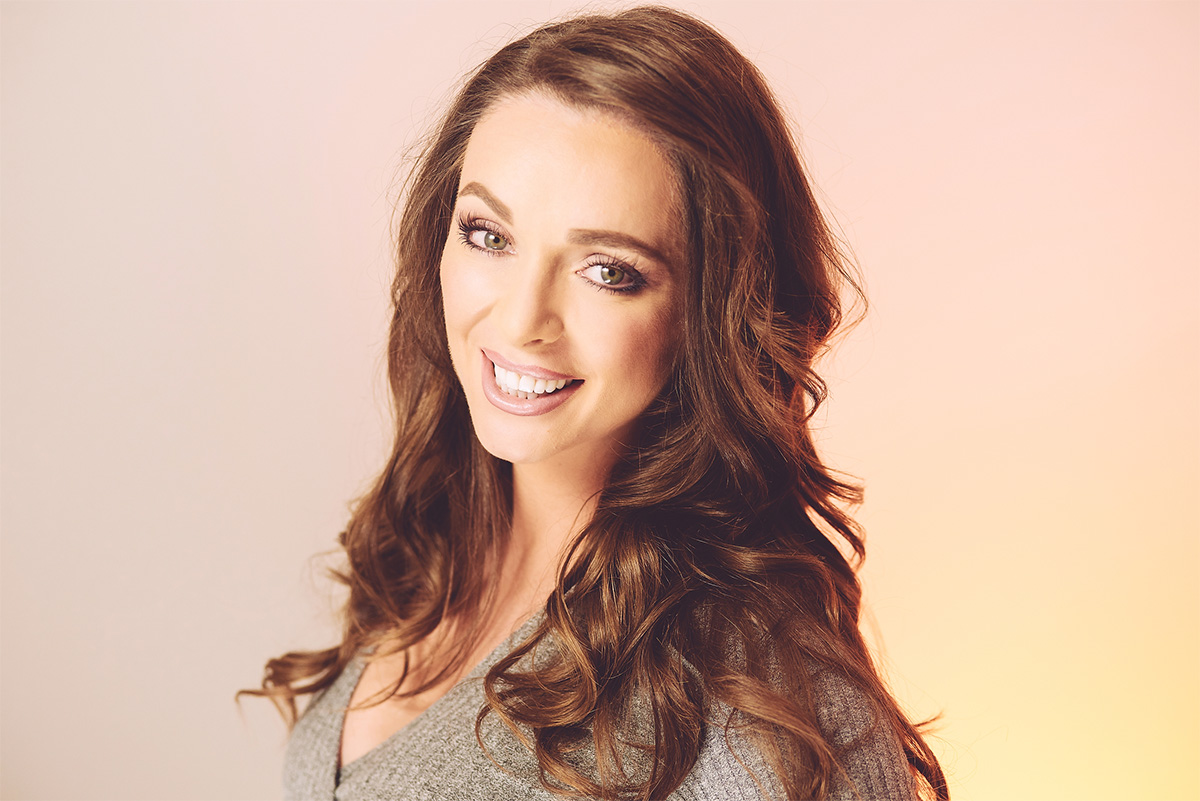 "More confidence in my profession..."
"Invisalign was the perfect treatment for me, given my profession train tracks were not an option! When my wisdom teeth came down I felt my teeth shifted and they weren't as straight as they had once been. I had heard great reports about Creative Smiles Belfast and knew that Mark had a lot of experience in treating Invisalign cases. I feel much better about my smile now, it has definitely improved. An excellent success which gives me more confidence in my profession, I'm even happier now to have my photograph taken!"
Read more Testimonials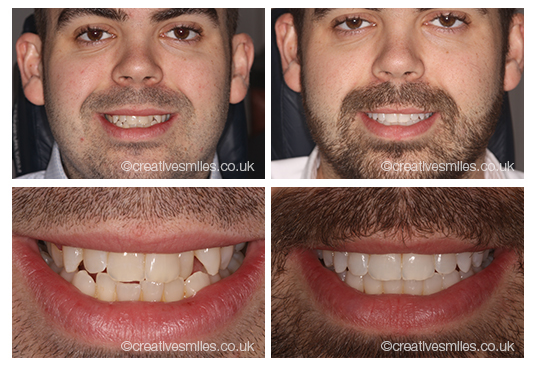 "I didn't think my teeth could be improved this much! "
This case was completed using a Invisalign. "Online research pointed me to the Creative Smiles Belfast facebook page. Although Invisalign was more expensive and took slightly longer than the traditional braces they were much less visible and I was conscious of having a visible brace. Both the staff and experience have been amazing, I didn't think my teeth could be improved this much! Invisalign treatment has improved both my personal and professional life as I am more confident in my smile!"
Read more Testimonials
Frequently Asked Questions
How does Invisalign work?
+
Invisalign uses constant gentle force to move your teeth. Your treatment will involve multiple stages. At every step, we'll provide a new aligner that's slightly different from the last. Each new aligner will make very small changes to the position of your teeth. Gradually, these changes will become noticeable.
How long does Invisalign take?
+
Every smile is unique, so treatment lengths vary. Invisalign provides excellent results in mild cases in six months, while more complicated treatments can take up to two years. We'll use advanced software to create your treatment plan. From this, we determine how long Invisalign will take. our patient from Belfast and beyond are delighted with their Invisalign treatment.
Do I need to wear my aligner constantly?
+
Although Invisalign is removable, it's important to wear your aligner as much as possible. We suggest only taking it out to eat, drink, and brush your teeth. The recommended daily wear time is at least 22 hours. Invisalign is safe and comfortable, meaning you can wear your aligner to bed.
Can I drink while wearing my aligner?
+
While wearing your aligner, certain drinks may stain or damage your aligner. Take your aligner out before drinking hot beverages, as these could warp the plastic and affect your treatment. You should also remove your aligner when drinking sugary or alcoholic drinks, which could cause discolouration. You can drink water while your aligner is still in position.
How do I clean my aligner?
+
Throughout the day, food debris and plaque can build up on every surface of your aligner. You should clean your aligner at least twice a day. You can use a spare toothbrush, toothpaste, lukewarm water, or special aligner cleaning products.
Does wearing Invisalign cause discomfort?
+
Invisalign is a comfortable treatment. You may notice some pressure against your teeth at certain times, particularly at the start of your treatment or when you change your aligner. This is usually brief and passes on its own.
Will Invisalign affect my speech?
+
When you start treatment, it can take a few days to fully adjust to wearing your aligner. During this time, you may develop a slight lisp. As you become used to wearing your aligner, your speech will return to normal.
What happens if I lose or damage my aligner?
+
Although Invisalign aligners are durable, they can occasionally be damaged or misplaced. If this happens, we may be able to order a replacement. Call us as soon as possible, and we'll advise you on what to do.
What happens after Invisalign treatment?
+
Once your Invisalign is complete, we want to ensure the results last. Following treatment, your teeth could slide back to their old position. To stop this from happening, we'll give you a retainer to wear.
Get In Touch