Alternative to other braces
The Inman Aligner is an increasingly popular alternative to other braces, which can take longer to produce results and are more expensive. The Inman aligner was pioneered in the USA but is now widely available in the UK, and we at Creative Smiles are delighted to be able to offer this innovative treatment.
Get in touch
How long will the treatment take?
Treatment with the Inman Aligner is much quicker than most other teeth straightening methods. Typically, patients will wear the device for between six to sixteen weeks. Patients are advised to wear the device for around 20 hours each day in order to produce the best possible results. Most patients wear traditional braces for at least a year, so this method produces results in a much shorter period of time.
How does the treatment work?
Unlike other types of braces, the Inman Aligner is a simple device which relies on the forces generated by a small coiled spring and a fine metal bar. The spring is attached to the back of the teeth, while the metal bar runs along the front of the teeth. Over time the combination of forces makes the teeth move in the correct direction by pushing or pulling them in a certain way.
Is the treatment suitable for everyone?
The Inman Aligner can be used to treat a variety of orthodontic problems, but it is not suitable for everyone. Patients with crowded teeth, for example, will often be recommended to go for an alternative treatment. Our experienced dentists here at Creative Smiles will be able to discuss other options with you if this is the case.
Happy Patients

"I can now smile without hiding my teeth"
"I have hated my teeth for years and finally decided to change them. After some online research I chose Creative Smiles because they looked very good at doing the work I was looking for. I couldn't fault the service it was amazing. It is a lovely practice to visit, my visits were perfect and the staff are friendly. Treatment has changed every photo and selfie I take lol. I can now smile without hiding my teeth" This case was completed using a discreet removable brace and finished with cosmetic bonding.
Read more Testimonials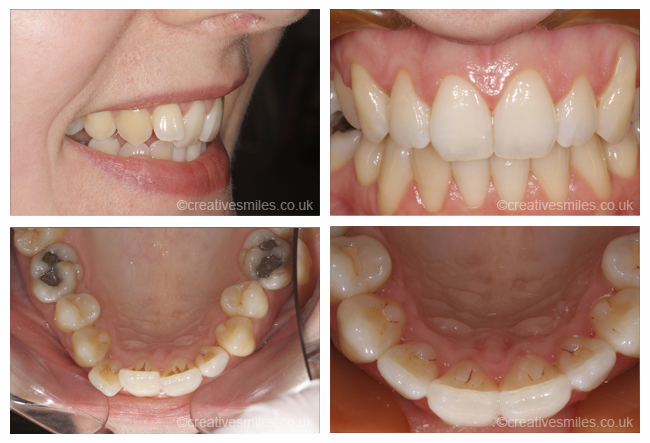 "I can now smile without worrying about my teeth being out of shape!'"
''My Sister was getting married very soon and I was unhappy with the way my front teeth were sitting and very conscious for the wedding photos. The Creative Smiles team were friendly and helpful and like me, very aware of my deadline. They accommodated me with an excellent service and I completed my treatment using an Inman aligner brace within an amazing 10 week period!! I can now smile without worrying about my teeth being out of shape!''
MP
Read more Testimonials
"Very professional set-up"
'I wanted to have my upper front teeth straightened as fast as possible. I was suitable for the Inman Aligner brace and it did exactly what I wanted it to do! I was advised the treatment would only take 3 months and it did. It has made a huge difference to my life and I am not afraid to smile anymore now or show my teeth. I would recommend this practice due to the friendly helpful staff, they answered all of my questions before I started the treatment. Very professional set-up''
Joanne, Belfast
Read more Testimonials
Frequently Asked Questions
How does Inman Aligner treatment work?
+
Inman Aligners consist of nickel-titanium alloy springs and aligner bows. Each part of the aligner creates an opposing force. The outer bows pull the teeth back while the inner bows push forward. Combining these forces makes Inman Aligner treatment quick.
Is Inman Aligner comfortable?
+
As with other aligners and braces, you may experience slight discomfort while you get used to the treatment. This should pass after a few days of wear.
How long does Inman Aligner treatment take?
+
Every case is different; however, we typically use Inman Aligners for simple tooth movements. Some treatments take as few as six weeks, while others can take a few months.
Will I need to wear my aligner all day?
+
To get the best results from your treatment, you should wear your aligner for at least 20 hours each day. We recommend wearing it as much as possible, and only removing it for cleaning or at mealtimes.
Will the Inman aligner affect my speech?
+
As you get used to having the aligner on your teeth, your speech may change. This is usually a short-lived change, and it should return to normal after a few days.
Am I a suitable candidate for Inman Aligner treatment?
+
We use Inman Aligners to treat mild to moderate cases of crowding and protrusion. Book a consultation and we can determine whether this treatment is right for you.
Will I need a retainer after the Inman Aligner treatment?
+
Yes. As with other teeth straightening treatments, we need to ensure your new smile doesn't move back. Retainers maintain the position of your teeth.
Get in touch