Facial rejuvenation by Creative Smiles
Looking great helps us to feel our best. So, when tell-tale signs of ageing begin to show, it can affect confidence as well as looks.
We've selected a range of treatments from the leading edge of aesthetics science to keep skin smooth and firm, as well as restoring youthful contours.
Our aesthetics treatments are designed to reduce the common signs of ageing – like wrinkles, crow's feet, blemishes and more.
And we also offer non-invasive procedures to give facial contours a beautiful definition and keep them in youthful proportion.
Get in touch
Anti-wrinkle injections
There's no need to worry about frown lines. Our leading, non-invasive anti-wrinkle injections are perfect for smoothing out age-related lines wherever they appear.
Our expert team uses botulinum toxin anti-wrinkle agents – sometimes known as Botox. It's a safe, effective method of smoothing crows' feet, worry lines and wrinkles to give the skin a smoother, more youthful look.
The treatment is delivered quickly in an appointment lasting just half an hour. Lots of Creative Smiles patients love to visit the clinic every four months to keep fantastic results topped up and stay looking their best.
Dermal fillers
The loss of collagen and a reduction of the skin's natural elasticity is one of the many unfortunate side-effects of ageing. It's the reason why skin around the cheeks and chin begins to sag and lose its youthful definition as we get older.
Dermal fillers reverse the worst effects of collagen loss by restoring volume and plumping the skin. The result is improved definition, smoothing of wrinkles and years taken off the appearance.
We've taken care to select some of the leading dermal filler products, which are proven to get incredible results. The procedure is relatively pain-free and fast enough to be carried out in a busy lunch hour with time to spare. No wonder dermal fillers are one of our most popular facial aesthetics treatments!
Lip enhancement
There are few things more alluring than full and luscious lips. But it's a sad fact that our lips thin out and lose their youthful definition as the years go on.
With a small amount of HA filler, our experienced aesthetics team brings back the lost curves, providing definition, volume and enhanced kissability.
Lip enhancement – sometimes called lip augmentation – is a fast and relatively painless procedure for giving lips a natural bowed appearance that's surprisingly effective at erasing years from the face as a whole.
Depending on factors like your age and lifestyle, the results of lip augmentation are effective for up to 6-18 months.
Happy Patients

"I can now smile without hiding my teeth"
"I have hated my teeth for years and finally decided to change them. After some online research I chose Creative Smiles because they looked very good at doing the work I was looking for. I couldn't fault the service it was amazing. It is a lovely practice to visit, my visits were perfect and the staff are friendly. Treatment has changed every photo and selfie I take lol. I can now smile without hiding my teeth" This case was completed using a discreet removable brace and finished with cosmetic bonding.
Read more Testimonials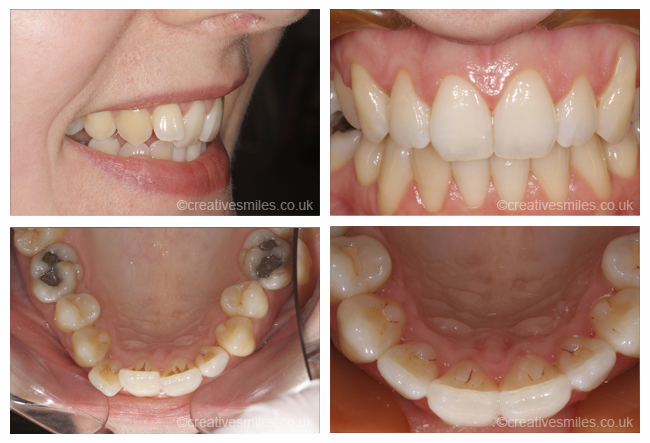 "I can now smile without worrying about my teeth being out of shape!'"
''My Sister was getting married very soon and I was unhappy with the way my front teeth were sitting and very conscious for the wedding photos. The Creative Smiles team were friendly and helpful and like me, very aware of my deadline. They accommodated me with an excellent service and I completed my treatment using an Inman aligner brace within an amazing 10 week period!! I can now smile without worrying about my teeth being out of shape!''
MP
Read more Testimonials
"Very professional set-up"
'I wanted to have my upper front teeth straightened as fast as possible. I was suitable for the Inman Aligner brace and it did exactly what I wanted it to do! I was advised the treatment would only take 3 months and it did. It has made a huge difference to my life and I am not afraid to smile anymore now or show my teeth. I would recommend this practice due to the friendly helpful staff, they answered all of my questions before I started the treatment. Very professional set-up''
Joanne, Belfast
Read more Testimonials
Frequently Asked Questions
What are facial rejuvenation treatments?
+
Facial rejuvenation or facial aesthetics treatments are non-surgical procedures that enhance your appearance. We offer a range of treatments that use injectables to enhance your natural beauty in a way that complements your smile.
What are anti-wrinkle injections?
+
As you go through life, your face retains lines, wrinkles, and creases. Anti-wrinkle injections smooth out these unwanted lines leaving you with a more youthful look. We can use anti-wrinkle injections in various parts of your face, including your forehead, around the eyes, the mouth, the chin, and the neck.
How do anti-wrinkle injections work?
+
Often referred to as Botox, anti-wrinkle injections contain botulinum toxin. This substance blocks nerve signals in the area it is injected, resulting in the temporary paralysis of facial muscles. By stopping contractions in your facial muscles, we stop wrinkles.
Are anti-wrinkle injections safe?
+
Yes. Our team is trained and experienced in delivering this treatment, and we use established products that have undergone rigorous testing.
How long do anti-wrinkle injections last?
+
Eventually, your body will break down the solution, which relaxes your facial muscles. When this occurs, you can return to the clinic for a top-up treatment. The effects of anti-wrinkle treatments typically last for several months.
How long does anti-wrinkle treatment take?
+
Anti-wrinkle treatments are brief. The exact length of your appointment will vary depending on how many areas we're treating. Typically, you can expect your anti-wrinkle treatment to take around 30-60 minutes, meaning you don't have to make any major adjustments to your daily routine.
How soon will the results of anti-wrinkle injections show?
+
After your first treatment, you can expect lines and wrinkles to fade away in around one to two weeks. If you return for a top-up at a later date, you may see these results sooner.
How long does it take to recover from anti-wrinkle injections?
+
You should experience any downtime following your anti-wrinkle injections. You may have a small amount of bruising around the injection site, and some patients experience slight headaches or mild flu-like symptoms. These typically last for around 24 hours and pass without medical care.
What are dermal fillers?
+
Dermal fillers are a minimally invasive, non-surgical facial aesthetics treatment that adds volume to loose, sagging, and ageing skin. We can use dermal fillers in various areas of your face, including your cheeks and forehead and around your eyes, nose, and lips.
How do dermal fillers work?
+
As your skin ages, collagen production slows down. When this happens, your skin loosens, giving you an aged appearance. Dermal fillers contain a naturally occurring ingredient called Hyaluronic acid (HA). HA hydrates the skin restoring its natural plump appearance.
Are dermal fillers safe?
+
Yes. Dermal fillers are perfectly safe. Our team is also very experienced in delivering exceptional outcomes.
How long do dermal fillers last?
+
For most patients, dermal fillers last for between six and nine months. Every patient's body is different, and various factors affect the speed fillers break down. If you notice your skin loosening after this time, you can return to the clinic for further treatments.
How long does a dermal filler treatment take?
+
The beauty of dermal fillers is how quick and convenient the procedure is. Because we simply inject the fillers into carefully selected areas of your face, the whole process is short. Depending on the extent of your treatment, you can expect your appointment to last for around 30-60 minutes.
How long does it take for dermal fillers to work?
+
Dermal fillers start working straight away. Although it can take a few weeks for the active ingredient to integrate, you should see noticeable improvements almost immediately.
Are there any side effects of dermal fillers?
+
Dermal fillers are painless and have very few side effects. There is a possibility of some mild bruising around the injection site, however, this is temporary.
Get In Touch