Everlasting Composite Bonding in Belfast
A wedding wasn't the only life-changing event on the horizon for this bride-to-be when she visited Creative Smiles.
Our treatment left her feeling fabulous and happy-ever-after.
Cosmetic bonding was the finishing touch to a Six Month Smiles treatment, along with a little something for a true white-wedding smile.
It can be used to treat the following concerns:

Repair chips and small breaks

Close gaps

Enhance the shape and size of your teeth

White specks on teeth
Creative Smiles Belfast Composite Approach
This simple technique requires only one visit to complete and does not require any anaesthetic, making it a comfortable and easy treatment for our patients. We use the most advanced dental techniques and highest quality materials for our cosmetic bonding treatments. Careful shade matching with the colour of your natural teeth and performing a final high shine polish ensure that we provide the most natural finish.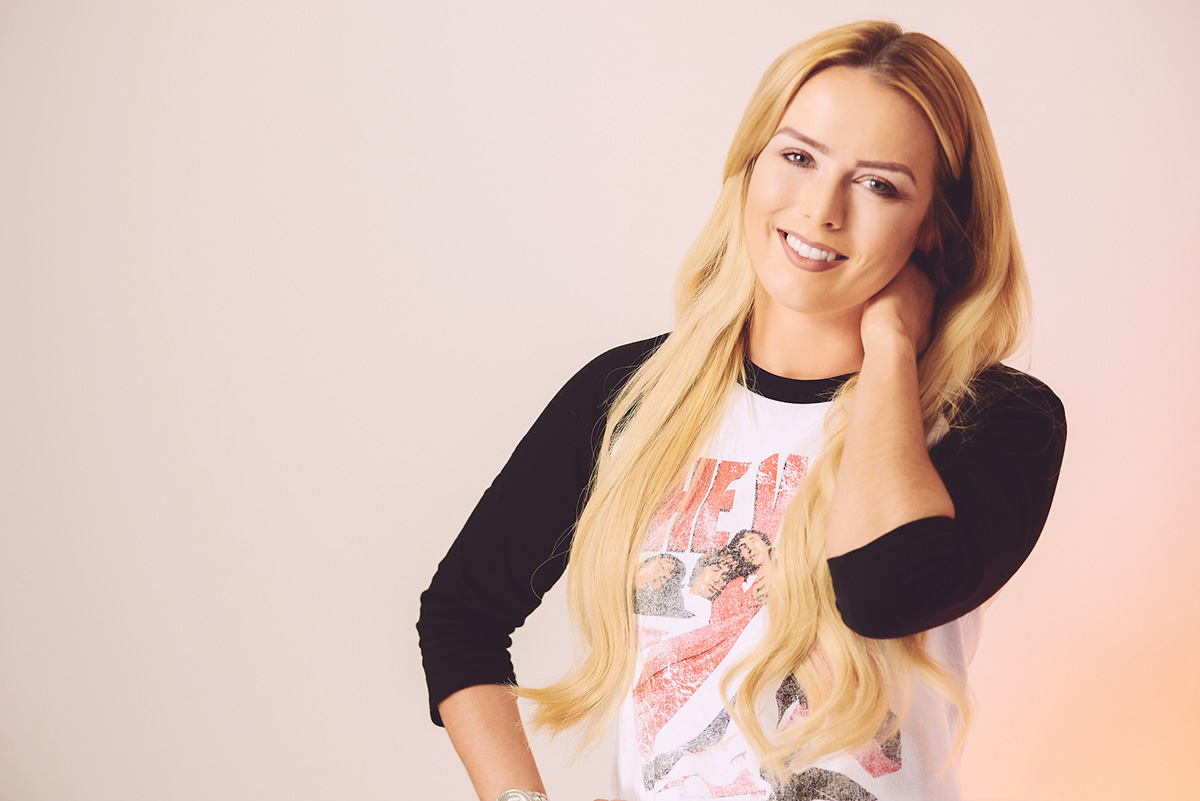 "The biggest difference has definitely been my confidence when I'm smiling"
"I wanted to feel more confident in myself, I did some research and found the Creative Smiles Belfast website very informative, especially their before and after pictures. I had three veneers fitted and cosmetic bonding on two teeth. I love my smile now, although it wasn't a massive procedure I feel that it has changed my whole smile. The biggest difference has definitely been my confidence when I'm smiling. So many people compliment my smile and how nice my teeth are."
Read more Testimonials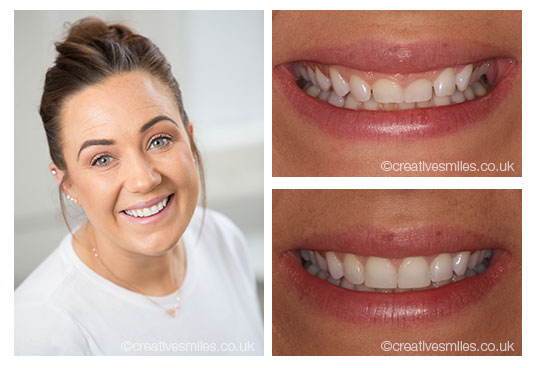 "Wouldn't dream of going anywhere else"
This Case was completed without any tooth preparation using a combination of Crown Lengthening, a Fixed Appliance Brace to align the teeth and finished with Cosmetic Bonding on the Upper Central Incisors. "I was getting married this year and wanted to improve my smile, it was something that had always bothered me. Creative Smiles Belfast were recommended to me by a friend and they did not disappoint. The service I received was above and beyond my expectations. From my first consultation with Leanne to dealing with Mark on a weekly basis nothing was too much trouble and I was made to feel so comfortable every time. I would definitely recommend them and wouldn't dream of going anywhere else. I was amazed at my results and was more than happy with the services I received."
Read more Testimonials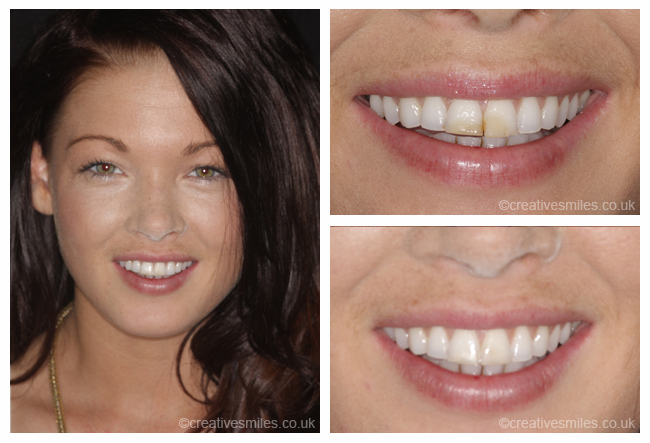 "I feel fantastic!"
"I really wanted to improve my smile, my sister had treatment at Creative Smiles and she recommended Mark. Throughout treatment the staff were really friendly. The result has been beyond my expectations and it has made a huge difference to me. I feel fantastic!"
DW
Read more Testimonials
Frequently Asked Questions
What is cosmetic bonding?
+
Cosmetic bonding uses composite resin to fix problems in your teeth, including chips, cracks, uneven wear, staining, and discolouration. We can also use the treatment to improve the shape of your teeth.
How is cosmetic bonding in Belfast different from veneers?
+
Porcelain veneers and bonding can treat many of the same problems but are very different procedures. Veneers are custom-made porcelain shells placed onto your teeth. Cosmetic bonding uses resin to repair dental issues.
Am I a suitable candidate for cosmetic bonding?
+
You are a good candidate for cosmetic bonding if you have an aesthetic problem with an otherwise healthy tooth. Before we plan your treatment, we'll assess your smile to determine whether this is the right option for you.
Does cosmetic bonding require any special maintenance?
+
No. To preserve your new smile, you should maintain high standards of oral hygiene and visit us for regular checkups. You should avoid habits like chewing pens, ice, and fingernails following cosmetic bonding.
What is the procedure for cosmetic bonding?
+
Cosmetic bonding treatment is simple but effective. We begin by applying composite resin directly to the areas of your teeth we want to fix before blending it. Once the tooth looks flawless, we'll harden the resin using a light.
Does cosmetic bonding hurt?
+
No. Cosmetic bonding is a painless procedure. In fact, you won't even need anaesthetic.
How long does cosmetic bonding take?
+
The exact length of your procedure depends on how many teeth we're treating. Many people enjoy that cosmetic bonding is a short procedure that allows them to fit an appointment easily around their normal schedule.
How long does cosmetic bonding last?
+
Your new smile should last for several years, provided you look after your teeth. A high standard of oral care and routine dental appointments will ensure your bonded teeth look great for a long time.
Can I whiten my teeth if I have cosmetic bonding?
+
You can whiten your teeth with cosmetic bonding; however, the bonded areas won't become brighter. If you're considering teeth whitening when you receive your cosmetic bonding procedure, let us know, and we can plan both treatments around each other to achieve a bright and even smile.
Get In Touch